An Interview with Zoe Weil
The following interview is shared with you by both Zoe Weil and Isaac Graves. To learn about this interview series and reproduction, citation, and copyright information, please click here. To find out more about Zoe Weil, click here and visit her organization's website here.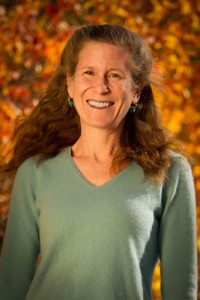 Zoe WeilIsaac Graves: What does community mean to you?
Zoe Weil: Community has several meanings to me. The first revolves around where I live. I'm part of a specific locality in rural Maine where I know and interact with many people because we share this region, depend upon one another in various ways, and come together for both celebration and fun and support and sorrow. I did not experience this sense of local community growing up. I was raised in Manhattan, sharing the equivalent amount of space I now share with barely 1,000 people with several million. Outside of family and friends, relationships with my "community" in New York were primarily transactional. Just a few years after living in my chosen community in Maine, which had ten years earlier created an alternative, Waldorf-inspired school my son attended, the 18-year-old daughter of my son's Kindergarten teacher was in a terrible car crash, paralyzing her. Our local community raised tens of thousands of dollars for her and came together to make their home suitable for life in a wheelchair. This was a revelation to me. It was possible to not only have a community of friends and family who would come to one's aid, but also a community based specifically upon locality. But I still hold another, important definition of community that is not based on proximal relationships. I am part of a large and dispersed community of social justice, environmental, animal protection, and educational changemakers and I consider this far-flung community to be core to my life and sense of belonging. Finally, as someone who has never found love of country to be more powerful than love of planet, I feel an overarching sense of community with the intricate and entwined and interdependent web of life on Earth.
IG: How does community play out in your life?
ZW: My son's elementary school was a key factor in my developing sense of local community. The school exists as much through parent and community volunteerism as through tuition. Ours is a vibrant community of engaged citizens, artists, and neighbors. We have a community steel drum band that plays free street concerts (requesting donations in support of local charities and schools) every Monday night all summer long. We have a couple of thriving and ongoing open mic nights where community members gather regularly to share their talents. We have a Last Night celebration every Dec. 31, which I know is growing more commonplace, but ours is quite a big event for such a small community with two schools, two churches, a fire station, a Town Hall, a Grange, and a Legion Hall packed with people listening to storytellers and musicians, watching theater and magic, and dancing to bands. Noel Paul Stookey (of Peter, Paul and Mary) plays to a packed Congo Church when he's in town on New Year's Eve, and when he does, I think we all feel something rather extraordinary singing Puff the Magic Dragon out loud with a musical icon who happens to be our neighbor. Every year just before Christmas, almost two hundred people gather to sing Handel's Messiah, brought to us through the leadership of the late Irving Forbes and the Bagaduce Lending Library, which furnishes each participant with the music. And everywhere there are people coming together to help, whether through our many volunteer fire departments, building and repairing homes, helping clear and burn brush, or digging out of the snow. Community means all this and more to me.
IG: What do you find most meaningful about community?
ZW: Everything I mentioned makes life where I live so rich and meaningful and connected, but maybe the most valuable piece is one I haven't had to rely on to any large degree… yet, and that is this: I know that if I were ever in need, there would be people at my door eager to help. I also so appreciate that our community protects our gorgeous landscape. Between Acadia National Park (cared for in large part by the non-profit Friends of Acadia) and our local Blue Hill Heritage Trust, we have miles and miles of trails through some of the most beautiful land in the Northeast.
IG: What's missing in community?
ZW: I would like a thriving alternative high school. We did have a democratic high school for several years that served the needs of many kids for whom the local high school wasn't a great fit, and we currently have a very small project-based alternative high school, but it's got fewer than 20 students enrolled. I would love to see our local high school offer a couple of "schools within a school" to meet the needs and desires of students who would prefer a less traditional high school education.
I would also like safer and larger shoulders for bicycling. The downside of our rural community is that we have to drive a lot. I would bike more if it were safer, but living on a road where the speed limit is 50 mph and with no bike lanes in our towns, biking doesn't feel like a viable transportation option.
IG: What is an ideal community to you?
ZW: Where I live is pretty close to the ideal. When we were looking for a place to raise our son we had four primary criteria: 1) a progressive, artistic, and engaged rural community 2) an alternative school that was aligned with our educational values for our son 3) a good food coop, and 4) a good library. We found all of that and so much more. I think that it's difficult to create community in mega-cities filled with highrises, but communities can and do thrive in city neighborhoods.
IG: What does a democratic education mean to you?
ZW: When I think of "Democratic Education" I generally think specifically of Summerhill, Sudbury Valley and other schools that do not have set or compulsory curricula and in which all decision-making is democratic with each student, administrator, and faculty member receiving a vote. But I think that democratic education does not need to be confined to only these specific examples of free schools. I can imagine democracy playing out in other ways that meld different progressive educational approaches.
IG: How does education play out in your life?
ZW: For almost 25 years, I have been a humane educator – someone who teaches about the interconnected global issues of human rights, environmental preservation, and animal protection in an effort to provide students with the knowledge, tools, and motivation to be conscientious choicemakers and engaged changemakers for a better world. I co-founded the Institute for Humane Education (IHE) in 1996 in order to advance the comprehensive humane education movement and train people to be humane educators. At IHE we believe that we need to embrace a much bigger goal for schooling than our current national iteration (to produce verbally, mathematically, scientifically, and technologically literate graduates who can "compete in the global economy"), and that this goal should be to graduate solutionaries ready and eager to play a role in transforming unhealthy, unjust, and unsustainable systems into ones that are restorative, peaceful and humane through whatever professions they pursue. I believe that education is the key to solving all our interconnected problems, and I have dedicated my life toward creating not only a vision for a new kind of schooling, but also in putting legs on that vision by providing the resources and training for people to bring humane education into their classrooms, communities, and range of educational venues.
IG: What do you find most meaningful about education?
ZW: I'm an avid reader. I read about 100 books a year and I read lots of news and information online as well. I'm also a big fan of TED/TEDx and other talks which are now so readily accessible on the Internet. These talks often lead me to books and articles and websites and changemakers so that I'm constantly learning, constantly invited to make connections. It's very exciting. The ways in which my learning was so compartmentalized in school, through subjects that didn't interrelate in any obvious way, have given way to a whole new way of learning now, where information from one source provides links to another and to another and to another so learning is a web of interconnections. I love this!
IG: What is an ideal education to you?
ZW: I like to distinguish 'education' from 'schooling.' Education happens everywhere and is a lifelong process. We humans are learners, and so we are always being educated. Some pursue learning avidly while others may find their world view solidifying in such a way that they avoid learning anything new, but wherever we are on this spectrum of educational pursuits, we are always learning. Much of the time when we talk about education, we are really talking about a specific kind of education – schooling – in which we are consciously imparting certain information and skills for the next generation. Even homeschoolers and unschoolers and free schoolers are still talking about a specific period of life in which the young are provided with collective wisdom and knowledge to prepare them for healthy, engaged, and prosperous adulthood. So I will answer a slightly different question: "What would ideal schooling be to you?"
I do not think there is an ideal school, although I do think that in today's world, all schools ought to embrace the goal I previously articulated: to educate a generation of solutionaries who have the knowledge, tools, and motivation to contribution positively to the creation of a more humane and healthy world through whatever professions they pursue. Once such a goal is embraced wholeheartedly, I trust that a variety of approaches and curricula will follow. I am opposed to a one size fits all approach to schooling because I do not think any one approach – no matter how good it might seem – would meet every child's needs, style of learning, or personal ambitions. Nor do I think there is one set curriculum every child must learn. I do believe there is core knowledge every child must have in order to become a true solutionary, and these include what we refer to as "the basics" plus a couple of others. I think every child needs to learn how to:
read and write proficiently
compute
be technologically literate
think critically
think creatively
work collaboratively
I believe that there are important factors that come into play in creating "ideal" schools, including the following:
We need creative and useful assessment strategies to ensure that students are receiving the "basics" I described above, strategies that differ from the current NCLB national, standardized, multiple choice tests.
Teaching must become the high status, highly creative, well-paying, sought-after job it should be and that it is in other countries where students are often better educated.
In addition to embracing a bigger goal for schooling described above, there are some things that I can say would be ideal for all schools, including:
An atmosphere of excitement and passion for learning (rather than fear of failure or pursuit of reward)
Healthy, ecologically friendly school buildings and humane, healthy, and sustainably produced food (eliminating from every school fast food franchises and junk food vending machines)
An atmosphere of respect and a commitment on everyone's part for personal responsibility for their actions (and zero tolerance for bullying and disrespectful behaviors whether by students, teachers, or administrators)
At the Institute for Humane Education we are working to open a Solutionary School in New York City in 2015 which will put all these ideas into practice for the first time. It's very exciting!
Watch Zoe Weil's TEDx Talk, "The World Becomes What You Teach" here: